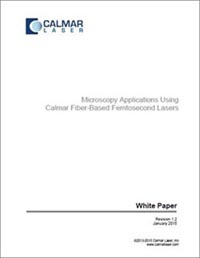 Multiphoton microscopy includes a number of different methods for imaging tissue with very high spatial resolution. Ultrashort light pulses with high peak power can be used in a variety of nonlinear optical processes, typically involving multiphoton absorption in molecules and florescence. Calmar's femtosecond lasers offer the high peak power femtosecond pulses, in the key wavelengths of interest. The fiber-based design offers the advantages of compact size, ease of positioning and use, high uptime, low cost, and are air cooled.

Fill the form shown to the right and a link will be emailed to you to download this free white paper.
Based in Palo Alto, CA, Calmar Laser is an ISO 9001:2008 manufacturer of innovative ultrafast fiber laser and fiber amplifier solutions for the needs of industry, research institutions and universities. Since 1996 Calmar has been a key supplier and reliable OEM partner to customers for advanced high-speed test and measurement applications, optical communications, component characterization, material diagnosis, transmission, biomedicine and micromachining. Today, Calmar is an industry leader in supplying robust, compact, ultrafast fiber lasers designed for simple hands-off reliable operation.